About Us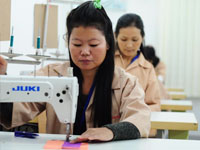 The Government has constituted Prime Minister's National Council on Skill Development for coordinated action for skill development, both in the domain of public and private sector. The National Council on Skill Development mandates skill formation to develop the workforce with enhanced skill through structured programme and assessment.
Owing to the presence of widespread training centers, participated by both public and private entities, determining the quality of training rendered at different training centers is crucial to the success of the skill development programme and thus skill assessment is essential part of skill development.
AMH SSC has been launched with a primary mandate of enhancing and to build a capacity in skill development. One of the salient features of the AMH SSC is designing of the training programmes, based on industry demands of different segments and to ensure that all successful trainees are certified through accredited assessment agency.
AMHSSC has been authorized by NSDC for evolving assessing proficiencies of skills of trainees for the apparel sector, made-ups and home furnishing for their respective subject areas.
The assessment is defined as a structured process in which evidence of performance is gathered and evaluated against approved NOS/QPs, approved by the NSDC. Assessment is the process of evidence collection of a person's competence level through range of methods-tests, observations, interviews, assignments and professional discussion etc.
It is further mandated that the competency assessment of the candidate is being done by independent Assessing Bodies (AB) which are not involved in training delivery, to ensure an impartial assessment.
Background:
The AMH SSC was incorporated on December 24, 2013, as a company i.e. licensed under Sec 25 of the Companies act 1956 with the object to Develop a skills repository for the Apparel, Made-Ups and Home Furnishings value chain, To build an organization that can develop Standards, evaluation criterion and accreditation systems for providing multiple and varied technical skills in the textile sector including employ ability skills to both men and women, as well as challenged persons with regular and direct inputs from industry, Create opportunities for "Training of Trainers "in both the content and pedagogy for imparting skill training for all workers engaged in the three chosen segments of the textile sector, Quality Assurance-Develop and promote a standardized, output oriented and quality assured affiliation and accreditation process and demonstrate sustainable business value through it, Focus on continuous improvisation of the training delivery value chain, i.e. training process, training content, trainers, curriculum design, industry endorsement for certification etc., Partner with training providers and guide them into becoming centre so excellence and innovation by utilizing the standardization in training, evaluation and certification developed by the SSC of the sector. Integration of Technology in Training, Development of a sector skill development plan and maintain skill inventory, Promotion of Resource Support Agency (academies of excellence), Establishment of a well structured sector specific Labour Market Information System (LMIS) to assist planning and delivery of training.
AMH SSC a body has a well defined organizational structure comprising industry members from knitwear, apparel, hosiery, fashion design, made-ups / home furnishing, association, academia, domestic apparel industry, NSDC besides representative from MoT.

Objectives:
The objective of the assessment and certification under Sector Skill Council is the certification of competency. The main objectives of assessment of testing and certification are as follows:
Effective assessment testing and credible certification of formally /informally acquired skills of targeted persons in the 12th Five Year Plan.
Setting uniformity in the assessment of testing and certification process in the clothing, made-ups & home furnishing sector for enhancing identical delivery of skill sets.
Certification being recognized by national and international Governments, private industries and trade organizations.
Publicize rating and outcome information on assessment of trainees and institutions.
Governing Bodies:
Chairman
Board of Directors
HR Committee
Audit Committee
F&B Committee
Norms Committee
Technical Committee