CEO's Message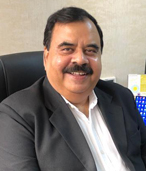 Skill India Mission, the flagship scheme of Indian Government, under the able leadership of the Hon'ble Prime Minister, began in 2015 to deliver wide-scale nationwide Skill development. The Apparel Made-Ups & Home Furnishing Sector Skill Council (AMHSSC), under the guidance and support of the Ministry of Skill Development & Entrepreneurship, has been proactively and extensively spearheading skilling initiatives for Apparel, Made-Ups & Home Furnishing Sector, while maintaining the highest standards.
The Council has successfully trained and certified almost Two million candidates, with 96% of qualified candidates being women in underserved and rural areas. The partnership and support received from the Indian Government, Private Institutes, Apparel industry, stakeholders and various CSR Initiatives have contributed towards the scalability and success of the Skilling eco-system in the sector.
The fact that 650 million Indians, nearly half the Country's population, are under 25 years of age gives India a considerable edge. With education at the heart of the Country's growth and the emergence of tech-driven spaces, a creative economy and industrial dynamics, the youth and working-class population can be of tremendous resource for the nation's economic growth.
As we advance, the Council will wholeheartedly work towards further strengthening the education and skilling eco-system landscape, connecting skilled youth with opportunities for employment & entrepreneurship in India and worldwide.
Dr. Roopak Vasishtha
CEO-AMH SSC