Chairman's Message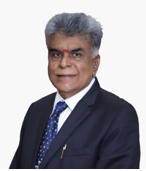 Apparel Made-Ups & Home Furnishing Sector Skill Council (AMHSSC), since its inception, has been proactively spearheading the skilling initiatives under the aegis of Ministry of Skill Development & Entrepreneurship, Government of India. The Council aims to skill maximum number of people across the nation with high scalabilitywhile maintaining the highest standards, to achieve Hon'ble Prime Minister Shri Narendra Modi ji's vision of 'Skilled India'.
In an endeavour to realise Hon'ble Prime Minister's dream to make India, 'Skill Capital of the World', the Council has set standards for 36 Apparel Job roles in which trainings are imparted to meet the industry requirements and provide opportunities to the employment seekers. Having established a network of more than 11000 training partners/training centres, 46 assessment agencies, more than 1900 certified Assessors, 8000 certified trainers and 115 master trainers, the Council has also gained recognition as the "highest placement provider" to the skilled and certified candidates under the PMKVY scheme.
The Council has successfully trained and certified almost 20 lac candidates till date, with 96% of the trained candidates being women. The scalability and success of the skilling eco-system is attributed to the partnership and support received from the Indian Government, Private Institutes and various CSR Initiatives. Such partnerships have helped the Council achieve diversity and inclusion, especially through the participation of women and girls belonging to the rural or remote areas of India.
I congratulate the Council for doing an excellent work in promoting the Apparel Sector and skilling at the grassroots levels. It is my great pleasure to take over the role of Chairman, Apparel, and Made-ups & Home Furnishing Sector Skill Council and lead a team of very enthusiastic and committed professionals. I will whole-heartedly work towards accelerating skilling, up skilling and reskilling efforts so that we are able to create futureready workforce. The Council will also look forward to creating Apparel sector job roles awareness at school level, livelihood generation through innovative entrepreneurship models, especially for women and effective collaboration with industry and institute to mitigate the demand-supply challenges.
Padma Shri Dr. A Sakthivel
Chairman-AMH SSC